Friday, June 9th, 2017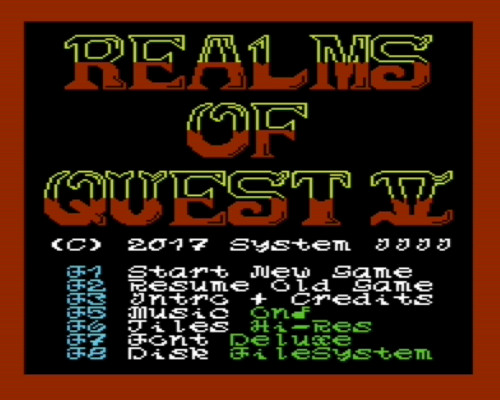 Last month, veteran Commodore VIC-20 developer Ghislain de Blois emailed me about his latest project, a turn-based RPG called Realms of Quest V.
He asked me to spread the word, and since I recently upgraded the WordPress installation for this site, it's actually easy for me to do so.
I have not tried it yet, but man — considering the limitations of the fairly anemic VIC-20, it looks pretty amazing. Here's what Ghislain had to say about it:
It's an RPG game that will span 4 disk sides.

Features:
-over 250 portrait graphics
-16 races and 16 classes
-music
-big world map four times greater than that featured in Realms III
-20 cities to explore with townspeople to talk to
-10 player characters allowed in party with an additional 10 spaces for non-player characters thus allowing a party size of 20 characters. This is an 8 bit RPG record.
-customizations: choose from 4 fonts and 2 graphical viewing modes.

I will hopefully be done in a few months. I've been working on this game every day since the beginning of February.
[ Continue reading An Epic-Looking Commodore VIC-20 RPG, Realms of Quest V, is Under Development » ]