October 7th, 2013 by
Benj Edwards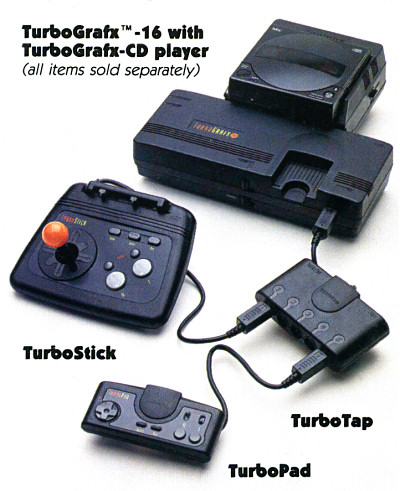 TG-16 Accessories: Designed specifically to tease children
I don't usually isolate a photo from a document I've scanned these days, but I found this neat TurboGrafx-16 pamphlet scan in my older scans folder and thought I'd share it. It's from a small accordian-style fold-out pamplet that likely shipped with a TurboGrafx-16 game or accessory. (If I had previously scanned the whole pamphlet, I'd share it with you. The pamphlet is currently packed away somewhere.)
I particularly like this photo because it shows a fully-loaded TurboGrafx-16 system, complete with TurboGrafx-CD add-on, TurboStick, TurboTap, and of course, a TurboPad. The only thing missing is the TurboBooster, which plugged into the back of the TG-16 (currently occupied by the CD unit in this photo) and allowed composite video and stereo audio output through RCA phono plugs.
[ From NEC TurboGrafx-16 fold-out pamphlet, circa 1990 ]
Discussion Topic of the Week: What's your favorite TurboGrafx-16 game?
—
See Also: TurboGrafx-16 Logo (RSOTW, 2009)
See Also: Too Little, Too Late? (RSOTW, 2008)
See Also: Keith Courage in Alpha Zones Mini Comic (RSOTW, 2007)