October 6th, 2015 by
Benj Edwards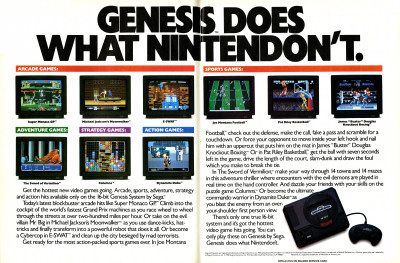 Before the Sega Scream, there was the Sega Insult
This is a rather famous early ad for the Sega Genesis that I have never featured until now. It played upon the dramatic graphical differences between the Genesis and the NES, claiming "Genesis Does What Nintendon't."
It's worth emphasizing that Sega is comparing its console to the 8-bit NES here, and not the Super NES — Nintendo's 16-bit machine had not yet been released in the US, allowing Sega to get a jump on the next generation in the American market.
[ From Video Games & Computer Entertainment, January 1991, p.50-51]
Discussion Topic of the Week: What year did you first get a Sega Genesis? What were your first games for it?