September 28th, 2015 by
Benj Edwards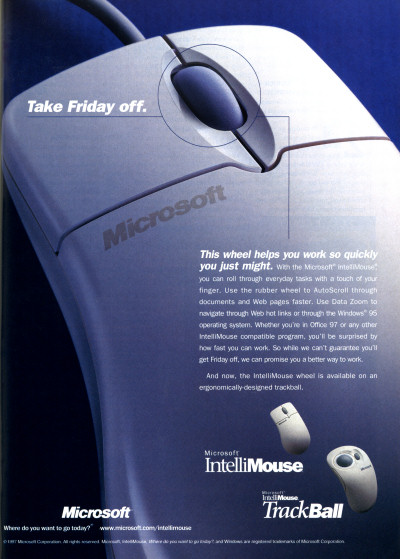 "In fact, don't even come in on Monday."
It's amazing to think back to a time when the now-common mouse scroll wheel was billed as a labor saving device.
But that is exactly what's going on in this early ad for Microsoft's Intellimouse and Intellimouse TrackBall. The Intellimouse series, first introduced in 1996, popularized the scroll wheel.
(By the way, the first mouse with a scroll wheel was actually the Mouse Systems ProAgio in 1995 — see this timeline I created in 2008 for more neat mouse history.)
A long time ago, people thought modernization and labor saving devices would lead to shorter workdays and work weeks. As someone once said somewhere (fuzzy attribution, I know), it turns out that productivity enhancements cease to be productivity enhancements as soon as they are ubiquitous. We just acclimate to them and expect more output for the same amount of work time.
Oh well. Keep on scrollin'.
[ From PC World, November 1997, p.199]
Discussion Topic of the Week: When did you first get a mouse with a scroll wheel on it? How did you feel about it at the time?
—
See Also:
The First Microsoft Mouse (RSOTW, 2007)
TrackMan Marble FX (RSOTW, 2008)
IBM ScrollPoint Mouse (RSOTW, 2010)