January 23rd, 2017 by
Benj Edwards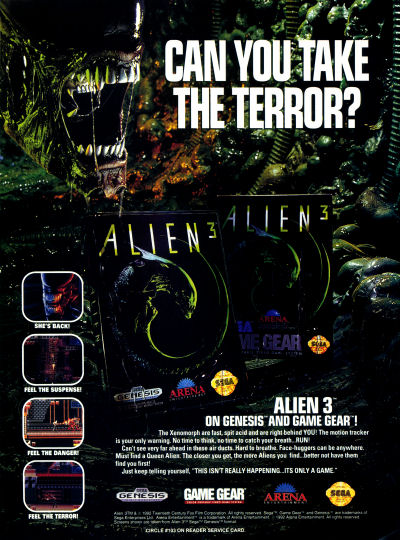 A very good existential question for these times
I seem to recall Alien 3 being a fairly well-received game for the Super NES. But I'm not sure I've ever played the Genesis version. In fact, come to think of it, I don't think I've ever even seen the Alien 3 film, despite being a fan of the first two films in the Alien series.
So what do I know about this game? Nothing!
But I like the art in this advertisement. Its headline question very clearly conjures up how I feel these days about uncertainties in life, the economy, and politics.
Speaking of the economy, I recently started a Patreon campaign to fund my work on this site. In fact, everyone donating $10 or more a month on Patreon is getting access to a 600 DPI version of this scan (along with access to full research interviews used in future articles). At some point I hope to make available high-res versions of all the previous Retro Scans available to select patrons as well.
[ From Video Games & Computer Entertainment, November 1992, p.23 ]
Discussion Topic: What's the scariest classic video game you've ever played (let's say pre-1997)?