April 27th, 2009 by
Benj Edwards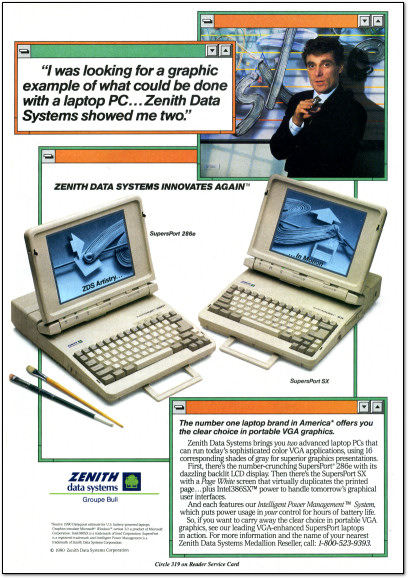 "Zenith Data Systems Innovates Again"
I've used my fair share of hefty laptops like the Zenith Supersport SX and 286e seen above. Their relatively large size by modern standards made them no less miraculous for their time.
Even in 1990, we'd come a long way from foot-breaking luggables like the Osborne 1, the Kaypro II, and the Compaq Portable. Gone were the bulky CRT displays; in their place sat thin LCD panels that would vastly expand in capability over the next 19 years. The LCDs in most early laptops started off monochrome with no backlighting, low contrast, poor viewing angles, and slow refresh rates, but that was worth suffering through if it meant you could have a full-powered PC on the go.
Interestingly enough, computers like those seen above — even with their display limitations — are not completely obsolete: I still use old monochrome laptops for writing outside because you can easily see the displays in full sunlight. If you try that with most modern laptops, you'll see nothing but a dark blur.
[ From BYTE Magazine, October 1990 ]
Discussion topic of the week: What's the largest portable computer you've ever used?