August 8th, 2011 by
Benj Edwards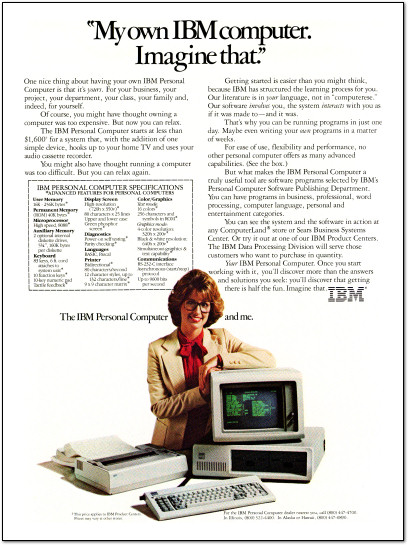 "The pee cee ate mah leeeegs!"
Thirty years ago this week, IBM released the very first entry in its Personal Computer line, the IBM PC 5150. To celebrate, I dug up this very early IBM PC advertisement you see above. It hails from the tender year of 1982 — a time when corrective lenses made giant squid eyeballs jealous.
I've also wrangled up a list of previous IBM PC-related Retro Scans of the Week for you to enjoy (links below). The first you'll see is a sister ad to this one.
The 30th anniversary of a machine that started a 30-year computing paradigm is a very big deal (Well, as far as anniversaries go, anyway), so expect to hear more about the IBM PC from me soon.
[ From Byte Magazine, January 1982, p.61 ]
Discussion Topic of the Week: When did you first use an IBM PC or compatible machine? What did you think at the time?