January 29th, 2013 by
Benj Edwards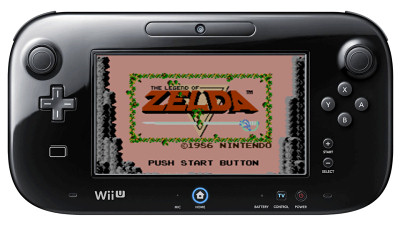 In light of the news that Virtual Console games on the Wii U won't be able to use save files from the Wii's Virtual Console, I would like to point something out.
Just today, I found a NES save file for The Legend of Zelda dated May 28th, 1998 (created by legendary NES emulator Nesticle) and continued that saved game in Nestopia in the year 2013.
I did it to spite Nintendo, because this is ridiculous.
That emulator save file originated on a PC I owned 15 years ago, and it resided on a long-since-decommissioned hard drive. Now it's saved to a SSD in a computer a bajillion times more powerful, with a different emulator, and it still works.
By the way, I've been able to play my ROM of The Legend of Zelda on every computer since then as well. And yes, I own the actual cartridge (three to be exact), so I can play it on the original NES and even feel morally OK about emulating the title.
So what's the deal, Nintendo? Surely in the year 2013, when we can download photos from robots on Mars and build amazing electronics like the iPhone, you can spend thirty minutes to whip up a save file transfer scheme for the Wii U.
I'm sure someone out there in the homebrew community would be happy to write you a tool to do the transfer for free. In fact, they probably will anyway, because, historically, homebrew has always filled in on the functionality left out by clueless companies.
"Clueless" being the operative word.
A History of Incompetence
The lack of VC save transfer functionality is only the latest misstep when it comes to Nintendo's handling of officially emulated software. Here are a few others:
Wii U owners will have to pay a surcharge to upgrade Wii VC titles to those on the Wii U Virtual Console
Wii VC titles are locked to the console; if your Wii breaks, you lose the games forever.
Nintendo 3DS owners cannot transfer VC games or saves between the Nintendo 3DS or any other Nintendo console.
Technology should bring us fluidity and convenience. If a company denies you these things, it means they are either afraid or incompetent.
Nintendo could be afraid. They could worry that opening up transfers willy-nilly between consoles would mean they couldn't sell the same game nine times to the same person.
Perhaps they want to keep the Wii and Wii U systems separate to prevent known exploits on the Wii from crossing over into the Wii U space.
But I think they're just incompetent. Nintendo's non-game interface design is a mess. Their online shops are a mess. Their online gaming/friending system is a mess.
Perhaps they simply lack the skilled employees to pull off quality non-game software. Perhaps they lack the vision in leadership to provide quality non-game experiences to their customers.
Perhaps they just don't know what the heck they're doing.
—–
Update: 02/03/2013
From my point of view, just about everyone arguing against my article is arguing against their own consumer rights. Especially the right to have mobility with your digital purchases without having their fate being sealed in a faulty piece of hardware or in a second-class artificial bubble (i.e. Wii mode) inside another console. (And to free yourself from that bubble, gaining artificial convenience, you have to pay extra.)
Many are thinking of this in terms of a war of Nintendo vs. Sony, etc. when the real equation is Nintendo vs. You. Stand up for your rights not to be digitally jerked around by incompetence and fear. The result ends up in lost cultural history that only piracy can rectify. We all deserve better than that, and it is neither unfair nor unreasonable to ask for digital flexibility from the companies that essentially own modern culture.