March 18th, 2013 by
Benj Edwards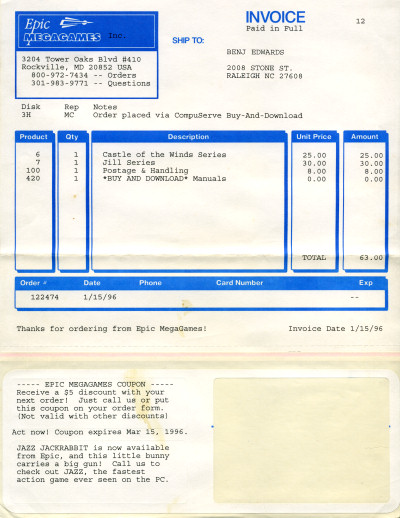 Epic MegaGames purchase invoice in January 1996.
You're looking at a rare physical artifact from the twilight of shareware's golden age.
Way back in 1996, when Gears of War maker Epic Games still went by "Epic MegaGames," I ordered a few registered copies of its shareware games through CompuServe.
Since it was a special buy-and-download deal (very unusual in 1996), I didn't receive copies of the games themselves on disk. Instead, Epic mailed an invoice, copies of the games' instruction manuals (which have been displaced from this set, or else I would have scanned them too) and a shareware demo disk from Epic partner Safari Software.
They arrived together in a nice bubble wrap mailer, seen below: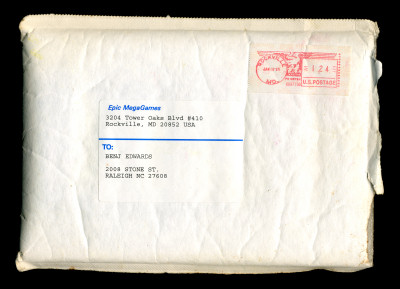 Epic MegaGames mailing envelope from January 1996.
As you can tell from the invoice, I ordered the full registered versions of Castle of the Winds and the Jill of the Jungle Trilogy from Epic Games. Despite my perennial love of shareware, this was likely the only time in the '90s that I registered any shareware computer game. And even then, I didn't actually pay for it myself — my father's company footed the bill through its CompuServe account, which I regularly used. (My only excuse is that I was 14 at the time.)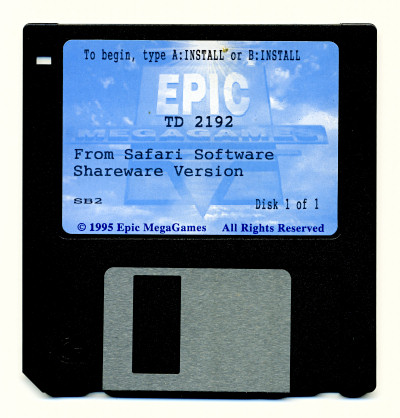 Shareware demo of Traffic Department 2192 from Safari Software, 1996
I'm still a big fan of Epic's shareware titles, and I interviewed the firm's founder and CEO, Tim Sweeney, in 2009 for Gamasutra. It's neat to be able to peek back in time and catch a glimpse of Epic Games' early history during the years before Unreal sparked a company rebirth and revolutionized its business plan.
(By the way, in case anyone is wondering, I have digitally modified the mailing address on these scans for privacy reasons.)
[ Update: 3/19/2013 ] I showed Tim Sweeney this post and he had this to say about it:
Oh wow, that brings back old memories. After spending way too much time collating mailing labels and invoices, I remember buying those laser-printable invoices-with-sticky-mailing-labels for $7000, which represented a huge portion of my bank account at the time.

Besides being deep into writing Unreal Engine 1 at the time, I also wrote and maintained the customer database we used to print those invoices. I was in college at the time so I had very little time available to pack and mail disks.
Thanks, Tim!
[ From Epic MegaGames Sales Packaging and Literature, January 1996 ]
Discussion Topic of the Week: Did you ever register a shareware program in the 1980s or 1990s? Which one(s)?