Thursday, February 1st, 2007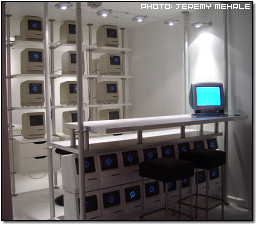 Deep in the heart of Missouri lies a secret underground bunker full of Apple Macintosh computers. Within its stark white walls, you'll find the computer collection of Jeremy Mehrle, a professional graphic designer with a decided preference for Apple hardware.
Actually, Mehrle's presentation more closely resembles a swank nightclub than a bunker. The monochromatic color design and minimalistic furniture arrangement compliment the Mac collection perfectly, while adding an incredible touch of class to the makeshift museum. Dozens of compact Macs (mostly Classic IIs), which automatically run screen savers when turned on, engulf a tall bar area in one corner of the basement. In other section, there's an eye-catching wall full of candy-colored iMacs. And don't forget to take a stroll down the row of various all-in-one Mac models that includes the rare Twentieth Anniversary Macintosh. Eat your heart out, "Mac Shelf."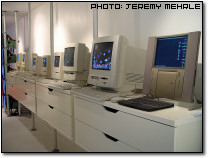 Merhle, who also goes by the handle "soyburger," posted some pictures of his basement Mac collection on Flickr in August of last year, and links to the gallery have been virally spreading around the web ever since. I just recently ran across the photos myself and was so impressed with the aesthetically adept setup that I decided to contact Merhle and conduct a short email interview, which you can read below. There's a lot more to see of Mehrle's basement than the pictures here, so don't forget to check out the full gallery as well, on Flickr.