Monday, April 23rd, 2012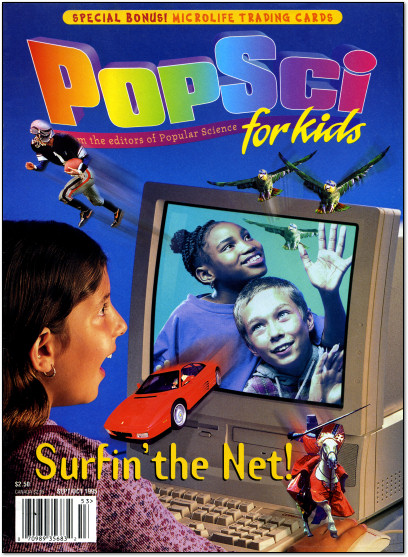 Ouch. Get off my hand, you tiny mounted knight.
Few magazine covers represent the playful optimism of the early Internet craze years like this cover of PopSci for Kids from 1995. Before the public understood what the Internet really meant, it was up to journalists (who usually didn't know either) to tell them. This resulted in lots of visual hyperbole (see children happily trapped inside a computer above) and colorful metaphors like "surfin' the net" to convey the energy and potential of something that, in reality, looked rather mundane on the screen.
Did these whimsical and exaggerated media tactics succeed? I think so, because that little thing called The Internet became much more popular than even journalists in 1995 could imagine. There is no doubt that the media played a large part in popularizing the global computer network in its early public years.
[ From PopSci for Kids, September/October 1995, cover ]
Discussion Topic of the Week: When was the first time you surfed the 'Net? Did you feel like you were actually surfing on a digital surf board made of ones and zeros?