Monday, January 5th, 2015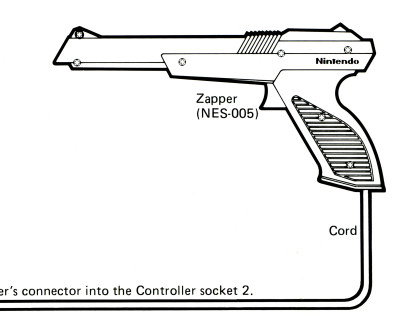 Plug it in, plug it in. (click for full image)
I love retro line art diagrams; this one has to be one of the best.
These two pages from the US Super Mario Bros. / Duck Hunt instruction manual (you can see both pages if you click on the image above — the small two dots in the middle are holes for a staple) illustrate the proper way to plug the Zapper light gun into your "Nintendo Entertainment System Control Deck."
Much fun can be had from doing that, of course — although I spent many hours in my youth cursing the laughing dog. My dad was first in our family to try to shoot the canine as he giggled at our Duck Hunting failure. Sadly, you can't.
NES Action Set Release Date
By the way, I've seen some sources say that the NES Action set, which first debuted the combo SMB/Duck Hunt cartridge, saw its first US release in November 1988. That is definitely not true, because my brother first got an Action Set for his birthday in June 1988.
Seeking to clarify this, I just did a newspaper archive search and found mention of the "Just Arrived" NES Action set in the April 14, 1988 edition of the Ukiah Daily Journal (from Ukiah, CA, of all places). That means the Action Set was available as early as April 1988.
So take dates you see on the Internet with a grain of salt unless they are coupled with a strong source (or better yet, collection of sources) behind them.
[ From Super Mario Bros./Duck Hunt manual, 1988, p.23-24]
Discussion Topic of the Week: In your opinion, what's the best Zapper game for the NES?
—
See Also:
Disk Box Modern Art (RSOTW, 2014)
Simple IBM Instructions (RSOTW, 2013)
USB Instructions (RSOTW, 2013)
Game Boy is Twenty (RSOTW, 2009)