Monday, November 11th, 2013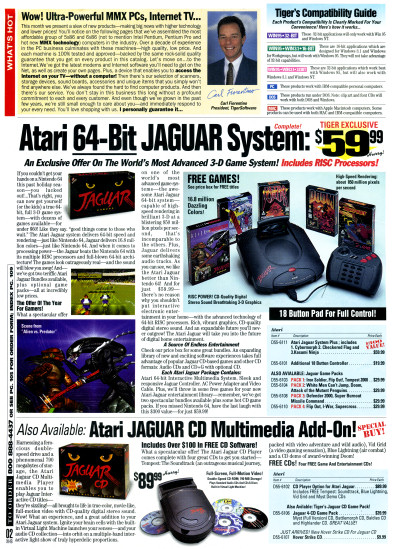 Atari Jaguar on Sale in 1997: "Includes RISC Processors!"
The Atari Jaguar launched at retail 20 years ago this Friday — November 15, 1993.
In April 1994, I received a Jaguar for my birthday, and it was one of the most exciting days of my life. That Christmas, my parents gave me Doom for the Jaguar, and I had a blast. After that, not many truly great games came out for the Jaguar (I'd say Tempest 2000 is the system-exclusive standout).
Partly because of that lack of great software, the Jaguar sunk fast — especially in the face of strong competition from Sony, Sega, and Nintendo (throw in some 3DO and Neo-Geo in there as well). The mid-1990s was a hard time to be a video game console.
By 1997, the Jaguar was toast. If I recall correctly, TigerDirect bought up a huge inventory of unsold Jaguar and Jaguar CD systems and sold them through their catalog.
This scan is a page from a 1997 TigerDirect catalog advertising the Jaguar for a mere $59.99 and the CD add-on for $89.99. Lucky for me, this is how I bought my Jaguar CD system, along with the advertised ultra-cheap game packs. CD exclusives Myst and Cybermorph 2 were worth the purchase alone.
So happy birthday, Jag. Sorry I can't write more about you now. But I've written a lot about you on VC&G in the past. To read more, check out the links at the bottom of this post.
[ From TigerSoftware Winter PC Sale Book 1997, Vol VII Issue 2, p.2 ]
Discussion Topic of the Week: What's your favorite Atari Jaguar game?
—
See Also: Rayman and Frustration (RSOTW, 2013)
See Also: Atari Jaguar Debut Photo (RGOTW, 2013)
See Also: War + Mech = "Kinda Cool" (RSOTW, 2007)
See Also: Anatomy of a Young Collector's Room (2006)
See Also: The First Atari Jaguar Press Release (2005)