Thursday, November 1st, 2007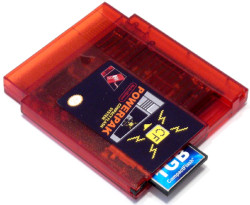 It's 1987. Your ravenous love for Nintendo's new console leads you to rent every new game released for the system, craving the joy of each new experience. One day, a stranger walks up to you on the street and offers you a device that lets you play nearly all the NES games ever released (or ever will be released) around the world on a single magic cartridge. What do you say?
Twenty years ago, such a contraption would have seemed laughably impossible. But that same mind-blowing scenario (minus the mysterious stranger) has become a reality in 2007 with RetroZone's PowerPak NES flash cartridge. Brian Parker, the man behind RetroZone and the PowerPak, put forth a monumental effort to bring this technically challenging dream product to market.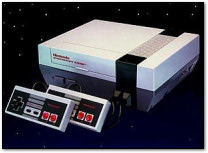 The PowerPak retains the familiar form factor of classic licensed NES cartridges, albeit rendered in a translucent orange plastic. Cut from top edge of each PowerPak is a notch through which a standard compact flash (CF) card may be conveniently inserted or removed. Turn on a NES with the PowerPak cart inside, and you'll see an on-screen menu that lists all the games on the CF card. Pick one from the list, you'll be playing the game as if you had the game's original cartridge in the console.
With a flash "multicart" like the PowerPak, NES users no longer need to switch cartridges between games, except for the few games that the PowerPak doesn't support (see below). Legal vagaries be damned: as an owner of over 250 NES cartridges, I find the convenience of this feature worth the price of the PowerPak alone.
[ Continue reading [ VC&G Review ] PowerPak NES Flash Cartridge » ]