Wednesday, October 12th, 2011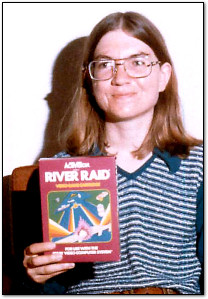 Carol Shaw likes to stress that she isn't your average American woman. Growing up in a world of technology and science traditionally guided by men, she ignored implicit gender barriers and pursued what came to her naturally.
She says she had little interest in dolls as a kid, instead preferring to tinker with her brothers' model railroad layout. In school, she proudly excelled in math and found herself gravitating toward computer science in college, a field of study populated by few women in the 1970s.
Two degrees later, Shaw landed a job at Atari programming games for the company's new VCS console. She didn't know it at the time, but she had just become one of the world's first female professional video game designers.
Shaw enjoyed a short but fruitful career in video games that lasted from 1978 to 1984, stretching between two prominent California companies: Atari, of course, which all but founded the video game industry; and Activision, a firm most notable as the very first third-party video game software publisher.
During her time at Activision, Carol Shaw created River Raid, a title almost universally regarded as a masterpiece of game design for the Atari 2600 console.
For decades, Shaw downplayed her role in video game history. Now 56, she seems ready to embrace that part of her life, although she does not actively seek attention or fame. In that regard, we are fortunate that she accepted my request for an interview.
In May of this year, Shaw and I spoke for nearly two hours over the telephone in a career-spanning discussion that touched on her educational background, her time at Atari, Activision, and Tandem Computers, and her reflections on being a woman in a historically male-dominated industry. She also generously provided many of the rare photos you'll see below.
It's a long piece, but I think you'll enjoy reading the extended thoughts of this pioneering software engineer.
[ Continue reading VC&G Interview: Carol Shaw, Atari's First Female Video Game Developer » ]