Tuesday, August 7th, 2007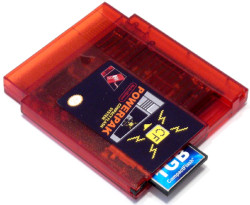 For a Nintendo Entertainment System fan, it's a once-impossible dream finally come true: a thousand games at your fingertips in a real NES console. RetroZone has done it first with the PowerPak, a new NES flash cartridge. With the PowerPak, you can fit every NES game ever made, around the world, onto one cartridge. Dumped ROM images of the games are copied to a compact flash card, which slides into the PowerPak unit itself. Turn on the NES with the PowerPak cart inserted, and you'll see an on-screen menu that lists all the games on the cart. Pick one from the list, you'll be playing the game as if you had the game's original cartridge in the console. With a flash multicart like the PowerPak, NES users no longer need to switch cartridges between games. As an owner of over 250 NES games, I personally have been looking for a product like this for a long time.
Perhaps even more exciting is the PowerPak's potential to jumpstart homebrew development in the NES community. Unlike the Atari 2600, Nintendo's most famous console is woefully lacking amateur home-programmed software. RetroZone is out to change that with their new PowerPak products, which significantly lower the barriers to entry in developing games for play on a real NES unit.