January 19th, 2015 by
Benj Edwards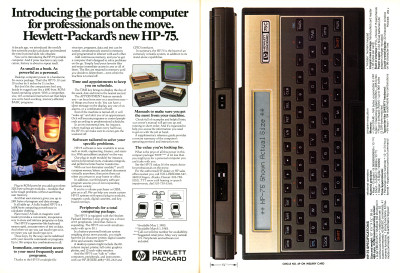 It's a lot like an HP-11C, but freakin' huge
Plenty of companies experimented with pocket and handheld computers in the early 1980s. Among them we must count HP, which introduced its HP-75C in 1982.
I peronally own an HP-75D (the successor model of this machine) that allows use of a bar code wand. I bought it on eBay around 2000, messed around with it a few times, and I think it's been sitting in a box or a closet since. I couldn't get into it, for some reason, like I could my TRS-80 Pocket Computer. Perhaps it's time to revisit the 75D and try again — if it still works.
Still, I have a soft spot for the HP-75 series because it features similar industrial design as my beloved HP-11C calculator, which I've been using since middle school. RPN for the win!
[ From Interface Age – May 1983, p.143]
Discussion Topic of the Week: Are you a fan of HP calculators? Which model is your favorite?
—
See Also: BASIC in your Pocket (RSOTW, 2009)
See Also: Asimov's Pocket Computer (RSOTW, 2011)
See Also: Sharp Pocket Computer (RSOTW, 2013)
See Also: Quasar Pocket Computer RSOTW, 2014)