Monday, June 2nd, 2014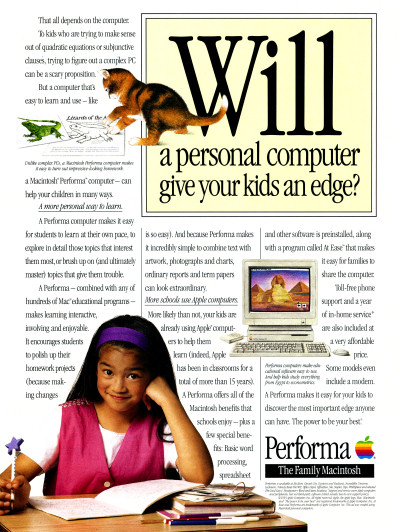 Ugh. The Performa Era.
The Performa line originated as a way for Apple to expand retail availability of its then-waning Mac platform. They did so by re-branding a number of existing Mac models with the Performa name (plus some numbers that didn't make much sense).
The Performa line's commercial availability coincided almost exactly with Apple's darkest era, 1992-1997, when sales dramatically declined, market share dropped, the company was generally mismanaged and unfocused, Macs had 10 different names for the same model, and Classic OS was getting long in the tooth.
I remember seeing a few Performa models for sale at Sears as a teenager and thinking, "Wow, they still make Macs?" Then I tried one out, and the OS was barely different from the Mac SE I'd last used in 1987 — some 6 years earlier — and it liked to crash a lot. It was a depressing time to be Apple. Whatever happened to that company, anyway?
[ From Discover – July 1993, p.5]
Discussion Topic of the Week: What was the first model of Macintosh you ever owned?