Monday, January 26th, 2015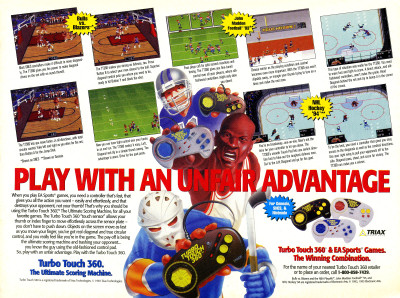 Man, that basketball player is pissed.
The Super NES / Genesis era coincided with a second golden age of third-party video game controllers and peripherals (the first golden age being the Atari 2600 era). If you browse through the Retro Scan archives, I'm sure you'll see quite a few.
One of the stand-out gimmicks of this era arrived courtesy of Triax Technologies: the Turbo Touch 360. Representing a series of controllers for various platforms (SNES, Genesis, and NES with IBM planned, but I'm uncertain if it launched), the Turbo Touch line relied on a touch-sensitive pad in lieu of a traditional D-pad.
Using the touch pad, you didn't have to physically push down on the D-pad to register movements; instead, you lightly slid your finger over the cross-shaped touch pad, sort of like a laptop touch pad. Ideally, this should result in quicker movements, but it could also result in more errors.
There was another supposed benefit to the touch pad technology as well. This 1993 Chicago Tribune article positions the Turbo Touch as a cure for game-induced thumb blisters (at the suggestion of Triax's marketing staff, as the article suggests).
I've heard a lot about people getting thumb blisters over the years while playing video games, but I've never actually seen it happen. That's because I've only heard about it through game peripheral advertisements. Such blisters are plausible, of course, but you'd have to push down on the D-pad very hard and rub it around over a long period of time. Maybe my thumb skin is just tough or something, but it's never been a problem for me.
(Full disclosure: I did get a blister in the middle palm of my hand by rapidly rotating a Suncom Slik Stick over and over for about an hour while playing Decathlon for the Atari 2600 in the early 1990s)
I'm not saying that no one ever got a thumb blister from playing a video game, of course (do a Google search) — just that it wasn't the epidemic that companies like Triax have led us to believe.
Call me skeptical, but I wouldn't be surprised if the the video game thumb blister meme originated as a marketing angle in an era that aimed to be loud, raw, and edgy (think "Play it Loud", Sega scream, etc.). What could be edgier than actually getting physically injured while playing video games? That's intense!
I actually own a Turbo Touch 360 pad for the Genesis that I never got around to trying for some reason (I bought it at a thrift store when my Genesis was packed away). Right now I have no idea where it is. Perhaps I should dig it out and put the promise of touch-fueled gameplay to the test.
[ From EGM or GamePro, circa 1993]
(I scanned this back in 2006, at a time before I wrote down the publication source and page number of every scan. I'm sure it came from a 1993 issue of EGM or GamePro. When I run across the ad again, I'll update this post accordingly.)
Discussion Topic of the Week: Have you ever gotten a blister from playing video games? Tell us how it happened.