BX-110 Super NES Joystick Status Page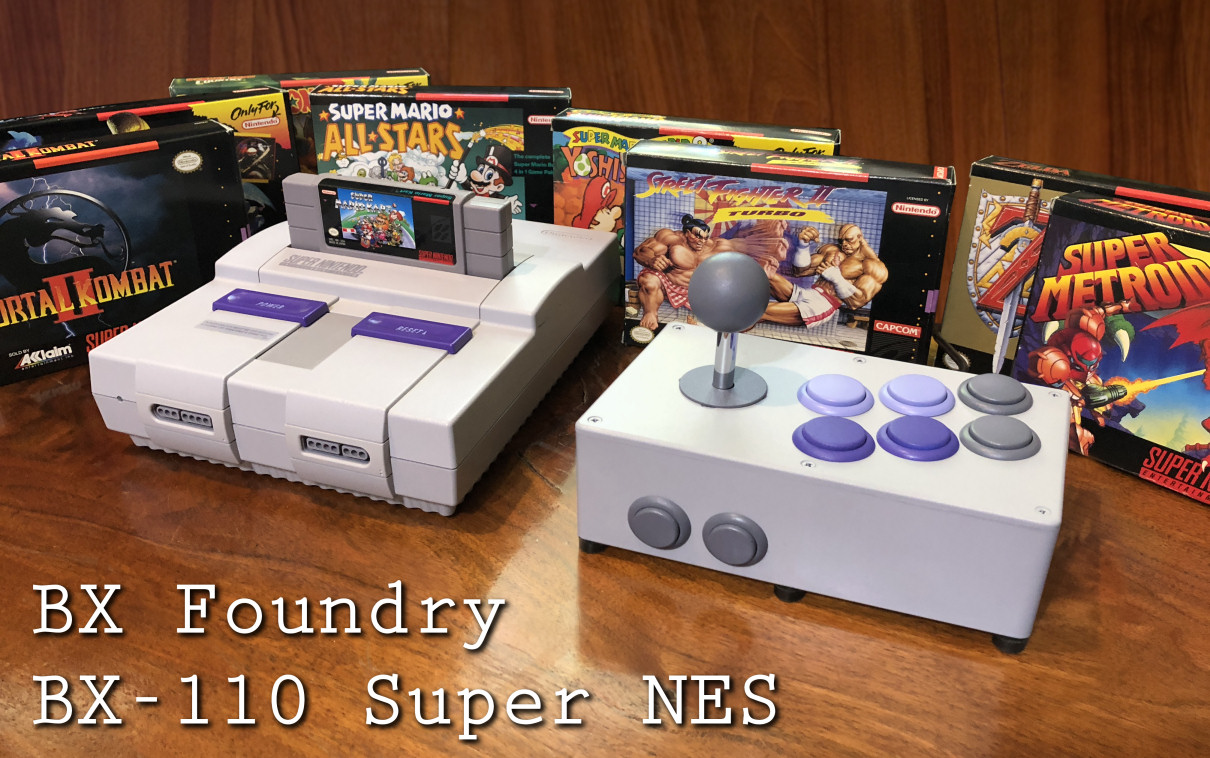 What's special about the BX-110 for Super NES?
Designed and built by video game historian Benj Edwards
Arcade-quality Sanwa joystick and button switches (great feel)
Durable, compact design
Weighted base with screwed rubber feet (stays put)
Custom electronics equivalent to original SNES controller (no lag)
So accurate, it brings unexpected new life to games

Pre-Order Your BX-110 Now via BXFoundry.com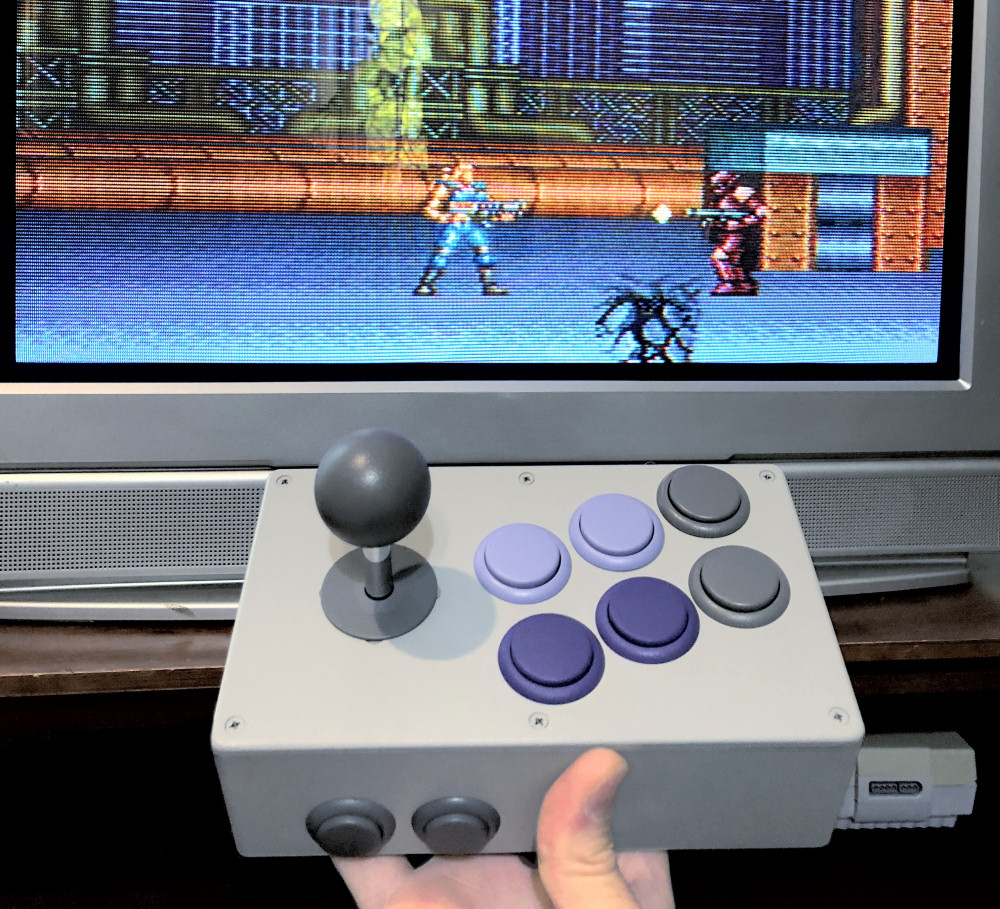 Place your order here on BXFoundry.com

Ordering/Shipping Details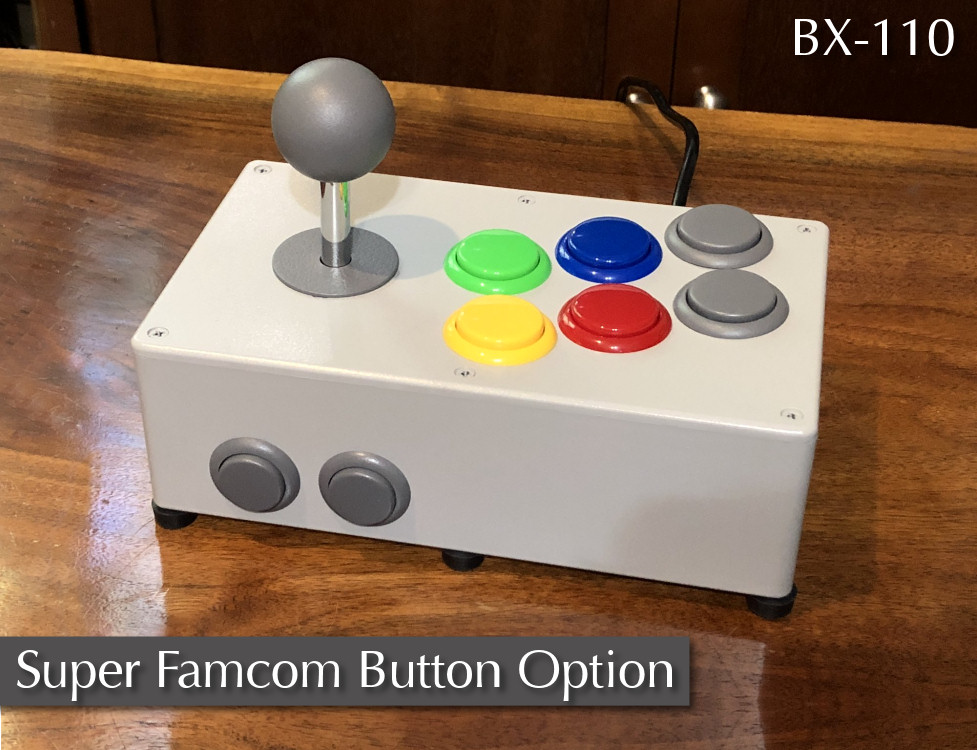 Button Color Options:
American-Style Super NES colors with Purple/Lavender/Gray buttons
European/Japanese Style Super Famicom colors with Red/Blue/Yellow/Green/Gray buttons
Shipping Info:
They will be shipped via USPS Priority Mail
US Orders Only (at the moment)
Delivery/Fulfillment:
Final design colors will vary from photo. Prototype in photo is painted, final will be molded in colored plastic.
If your order cannot be fulfilled for any reason, I will give you a 100% refund

About BX Foundry Handcrafted Joysticks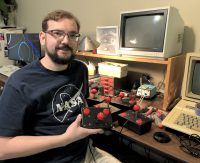 Hi, I'm Benj Edwards, a tech journalist and historian. Since August 1st, 2018, I've been hand-building joysticks and selling them through Twitter (@benjedwards).
(For more on that story, check out this post.)
So far I've built and shipped over 100 joysticks around the world for platforms such as Atari/Commodore, NES, Genesis. Right now I'm focusing on my new Super NES stick, the BX-110.
When hand-building the BX-110, I usually sell it for $150. They are complex to wire and prepare. I have hand-built four BX-110s so far (example), and they are wonderful for almost any type of Super NES game — even platformers.
This run of BX-110s is going to be slightly different from my other creations, because I am getting pre-orders so I can afford to buy larger quantities of parts, which will keep the costs lower.
Each BX-110 will come with a custom-designed circuit board that is electronically equivalent to a SNES pad. No lag.
Over 70 BX-110s sold so far! Come join the BX Foundry revolution.

BX-110 Specs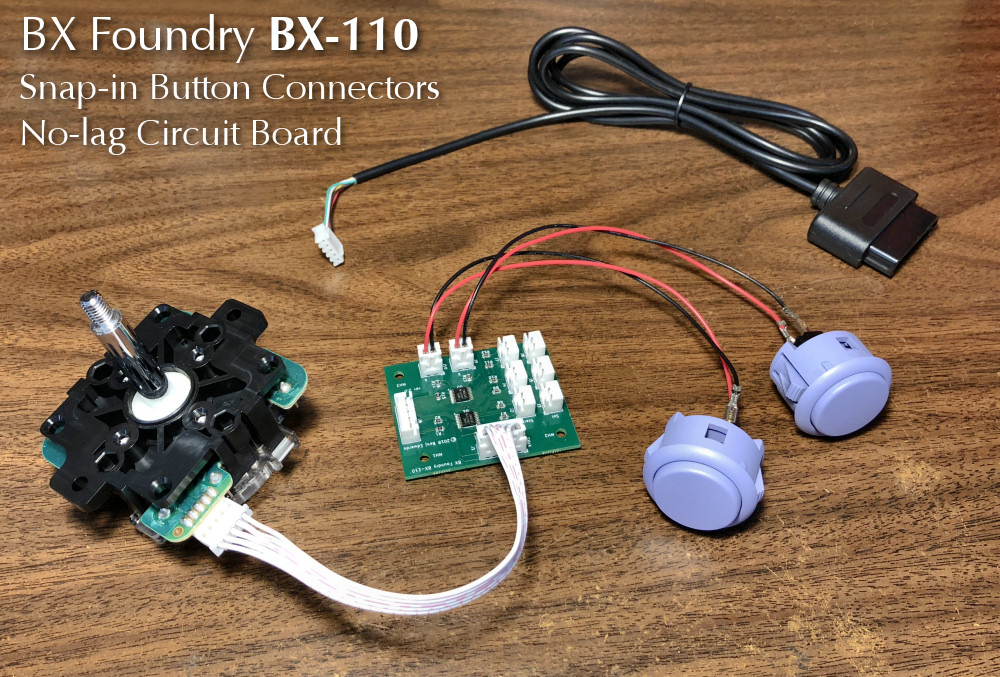 Platform: Super Nintendo
Electronics: Custom, 100% Super NES pad compatible
Number of Buttons: 8 (6 primary, 2 secondary)
Cable Length: 5 ft. 8 in.
Approx. Dimensions (L x W x H): 7.5″ X 4.6″ x 5″
Approx. Weight: 1 lb. 10 oz.

What People Are Saying about BX Foundry Joysticks
Here are a few select tweets about my joysticks. People seem to like them:
Benj's joysticks are the best I've ever owned and I own quite a lot.

(Don't tell my wife! Wait who's tweeting this?! Prank tweet, prank tweet.) https://t.co/T4cQrGiTQn

— Thomas Fuchs ? (@thomasfuchs) November 26, 2018
In the old days Quickshot 2 Turbo.

I just bought 2 brand new sticks from @benjedwards.

These are hand built and he does then for a range of consoles (nes, snes, etc) & computer's.

They are fantastic, so accurate its like playing a new game. pic.twitter.com/oy3iVO3TbM

— yakmiester (@yakmiester) November 28, 2018
Can't stress enough how great the BX-80 joystick is. Makes 2600 games actually playable. It's amazing. pic.twitter.com/ANcfDPfX04

— Sean-Paul (@HelloMrKearns) September 6, 2018
I was an arcade rat as a kid, still am at heart, and Shinobi III on the Genesis has never felt as right as it does using my @benjedwards built BX-95 joystick. Highly recommended. pic.twitter.com/lS48XfFFro

— sam, leavingthiswebsiteperson (@SamuelBass) November 24, 2018
taking my new Genesis stick (handcrafted by the esteemed @benjedwards ) for a spin at @VideoGamesNYC

Forgotten Worlds has never played so smooth ?? pic.twitter.com/S0AmLNovX7

— HUMMUS HQ? (@JohnImadNasr) September 28, 2018
I commissioned @benjedwards to make a custom BX-90 NES stick with Bluetooth. It's awesome, never beat the first Holy Diver boss before!

Looking forward to trying the stick out on the NES Classic. Great work Benj! pic.twitter.com/pC2gh0frMN

— John Rademan (@jjrademan) October 12, 2018
Shout out to @benjedwards for giving me a better way to play Section Z.

Also shout out ZECRON for leaving a maxed-out endgame save file on the disk before pawning it.

No shout outs to me, who still can't beat this damn game despite these advantages pic.twitter.com/owaqO0lLGG

— Jeremy Parish (@gamespite) November 26, 2018
Tight controls with the BX-91 from @benjedwards, beat the Japanese version of Super Mario Bros. 3 with it. pic.twitter.com/s3OtuxFPtJ

— Terry Janas ?? (@terryjanas) November 24, 2018
Received my BX-91 arcade stick from @benjedwards today! pic.twitter.com/dil3GiFkuq

— Terry Janas ?? (@terryjanas) October 10, 2018
BX-80 makes an appearance at #PRGE! @benjedwards pic.twitter.com/oGbnqumeVS

— Bill Lange (@BillLange1968) October 20, 2018
Spotted a @benjedwards stick in the PRGE video game history museum playing the never-released NES version of SimCity pic.twitter.com/REptzKtutl

— Jeremy Parish (@gamespite) October 20, 2018
Me: I'm bummed that my PSX repair didn't work. And it's raining. And in exhausted from a 4-hour meeting.

Postal carrier: Here, have this custom-made @benjedwards BX-80 joystick.

Me: BEST DAY EVAR!!! pic.twitter.com/Ks2qerxeJb

— Josh Malone, shaver of yaks (@48kRAM) October 11, 2018
Got my BX-80 today from @benjedwards. Very responsive stick that performs extremely well against the supreme GORFian Empire. Only got killed because I dropped my guard to take this crummy picture. Need to find my copy of Impossible Mission and put the BX-80 through its paces. pic.twitter.com/m1TY8GHQvY

— Jeff Skogstad (@jeffskogstad) September 7, 2018
Spotted @benjedwards's BX-80 joystick connected to an Atari 130XE. It feels great! pic.twitter.com/HxC9l6nvae

— Paul Rickards (@paulrickards) September 22, 2018
Thanks @benjedwards! Loving my BX80 so far. Works fantastic! pic.twitter.com/RU4dGjpL6s

— Rob Schmuck (@RJ_Star) September 10, 2018
I have one of these (BX80)! It's amazing! The RetroBeat: Check out these awesome homemade retro arcade sticks — that you can buy https://t.co/HbnTw9PNKY via @VentureBeat

— Eric Ebert – at #TNW2019 (@em_ebert) October 18, 2018
This beauty showed up today as well! Come try @benjedwards hand built BX80 arcade style joystick at #AtariPartyEast2018! Thanks Benj! pic.twitter.com/0zpoO8sVk0

— Bill Lange (@BillLange1968) September 7, 2018
The ?@benjedwards? game controller looks and feels great amazing on my Atari VCS. The bigger size feels more ergonomically correct than the stock Atari joystick. Thanks, Benj. pic.twitter.com/FYY6bvdMst

— Jake Nonnemaker (@JakeNonnemaker) August 19, 2018
If you're looking for a D-pad… frankly, I've never used one that's as good as Nintendo's own first-party pads. I'm diggin' Benj's joystick, though. It has a light touch, and button-mashing is very satisfyingly noisy.

— Jeremy Parish (@gamespite) September 7, 2018
This fancy @edwardsjben handmade joystick is coming in even handier than I originally anticipated. https://t.co/9fnYUCoHr0

— Jeremy Parish (@gamespite) September 11, 2018

BX-110 Production Milestones

09/27/2018: v0 Prototype through-hole SNES circuit board designed (JM)
10/02/2018: v1 BX-110 Prototype created (black case, one built)
10/12/2018: v2 BX-110 Prototype with SNES-like colors created (three total built)
10/17/2018: Beta version of BX110 SMT circuit board designed (JM)
10/17/2018: BX-110 pre-orders first announced on Twitter (seeking sales of 50 units)
10/20/2018: v2 BX-110 case dimensions drawn for fabrication (later superseded) (JM)
10/21/2018: BX-110 SMT custom circuit board (v2) design finalized (JM)
10/24/2018: SFC Colored-buttons tested in BX-110 v2 prototype
10/24/2018: Custom BX-110 circuit boards ordered
10/29/2018: Custom SNES data cables ordered
10/31/2018: Custom button and joystick connection cables ordered
11/02/2018: v3 BX-110 case dimensions drawn for fabrication (final) (JM)
11/05/2018: v3 BX-110 Prototype created, improved case design, final parts used (one built)
11/09/2018: Custom BX-110 circuit boards arrived
11/09/2018: Custom button and joystick connection cables arrived
11/23/2018: Custom SNES data cables arrived
11/27/2018: Custom-colored purple and lavender plastic buttons ordered
12/03/2018: Custom-colored purple and lavender plastic button samples approved
12/04/2018: Joystick assemblies ordered from Japan
12/04/2018: Custom plastic boxes ordered (Beginning 8+ week production process)
12/15/2018: 24mm buttons and ball tops arrived
12/17/2018: Sanwa joystick assemblies arrived
12/21/2018: Custom-colored purple and lavender buttons arrived
12/22/2018: Plastic color sample chips for case received and rejected by Benj
12/27/2018: Accurate SNES plastic color sample mailed to case manufacturer
01/21/2019: Case manufacturer's mechanical drawings approved by Benj
01/22/2019: Case plastic Color sample chips arrived (2nd attempt)
01/23/2019: Case plastic Color sample chips (2nd attempt) rejected by Benj
02/13/2019: Custom-colored gray 24mm and 30mm buttons ordered
02/24/2019: 128 dustwashers painted gray by Benj
02/25/2019: Benj stops taking orders for BX-110 sticks (first run). Capped at 78 units
02/26/2019: Case plastic Color sample chips arrived (3nd attempt)
02/26/2019: Case plastic Color sample chips accepted by Benj. Color match!
03/06/2019: Custom-colored gray 24mm and 30mm buttons arrived
03/11/2019: First case milling sample received. Several small errors present; reported back to mfg.
03/19/2019: Second case milling sample received. Two small fixes suggested.
03/20/2019: Final case drawings approved by Benj – case production due to start soon!
03/20/2019: Second bulk order of parts ordered from Sanwa
04/04/2019: Second bulk order of parts from Sanwa arrived
04/17/2019: Case manufacturer confirmed that 200 plastic cases are actively in production
05/02/2019: Product sticker labels designed and ordered by Benj
05/03/2019: Due to tool breakage, Mfg said the cases will not be shipped to Benj until at least May 17
Current Status (05/09/2019): Plastic cases are being manufactured; they are due to ship to me sometime within the next two weeks. I still need to find a paint color that matches the plastic color and use it to paint 468 screws.
I have designed and ordered a label.
ETA: Presumably I will have 100% of the parts finally in May. Even once I have all the parts, one man (me) has to assemble and pack and ship 78 sticks. So best case scenario would mean that some sticks start shipping in June.
Money is very tight and I keep running out while trying to finish this project, and that delays things (although I have had no control over how long the case manufacturer is taking). I've sunk over $12K into this project, and since I am not sure I will be able to devote the time/funds to produce more than 78 sticks (as I once hoped to do), it is looking like I will not make a profit on the BX-110. But I will still honor my commitment and get this stick out the door.
As much as I hate the delays, I am going as fast as I can. Thanks for your patience — if anyone wants a refund, just let me know.